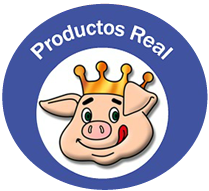 Quality Mexican Food Manufacturer in El Paso
Nothing completes a meal or a party better than a tasty selection of buche, chicharron, chili colorado dishes, and asadero. Whether you're at a family party or a restaurant, quality Mexican foods can really make the night. This is why we here at Productos Real manufacture quality Mexican food products in El Paso for distributors to be sold to restaurants and stores across the Southwest. 
Our products range from chicharron to chorizo and tripitas to raw Mexican meat. When you sell our products to your customers, you give them quality foods they can enjoy year round, from tripe for their Christmas menudo dinner to chicharron as the perfect after school snack. 
Order one of our Mexican food products in El Paso online or call (915) 594-4488 for delicious meals and snacks in the Southwest!