Tasty Food from Productos Real
At Productos Real, we sell a variety of raw meats that are perfect for cooking up the perfect Mexican and Latin American inspired meal. With several selections with our Mexican food products, specialities, and more, you can expect the very best for your next snack or delicacy.
Learn more about our raw Mexican meat services in El Paso by calling us at (915) 594-4488 or contacting us online today!
Chorizo
Chorizo, or Mexican sausage as it is commonly referred to, is one of our most popular Hispanic food products in El Paso and the Southwest. From breakfast burritos to tacos, chorizo is a fan favorite and is definitely one of our most sought after products.
Chorizo is a pork sausage that has its origins in Spain and Portugal. While it is usually prepared with smoked paprika in Europe, Mexican tradition calls for using local chile peppers. Made with 100 percent pork meat, our chorizo is delicious, tasty, and full of flavor, and it'll definitely become a hit.
Menudo
Our menudo Mexican meat, or tripe, makes for the perfect bowl of menudo. Add in hominy, red chile broth, and your choice of toppings, and you've got the perfect meal.
Tripe is made from the stomachs of cattle animals. Because tripe is so versatile, it's one of the most popular wholesale Mexican meats in El Paso and the Southwest for many restaurants and stores. Tripe is more commonly known as the meat in menudo, but can also be used for specialty dishes like tacos de tripe.
Tripe is prepared by cleaning the stomachs of farm animals and trimming away any fat before boiling and bleaching the meat. This is typically done professionally before being sold.
While tripe is popular in Mexico, it also has strong influences all over Europe, including in France and Italy. Tripe is nutritious and cost-effective, making it a favorite for many people all over the world.
Al Pastor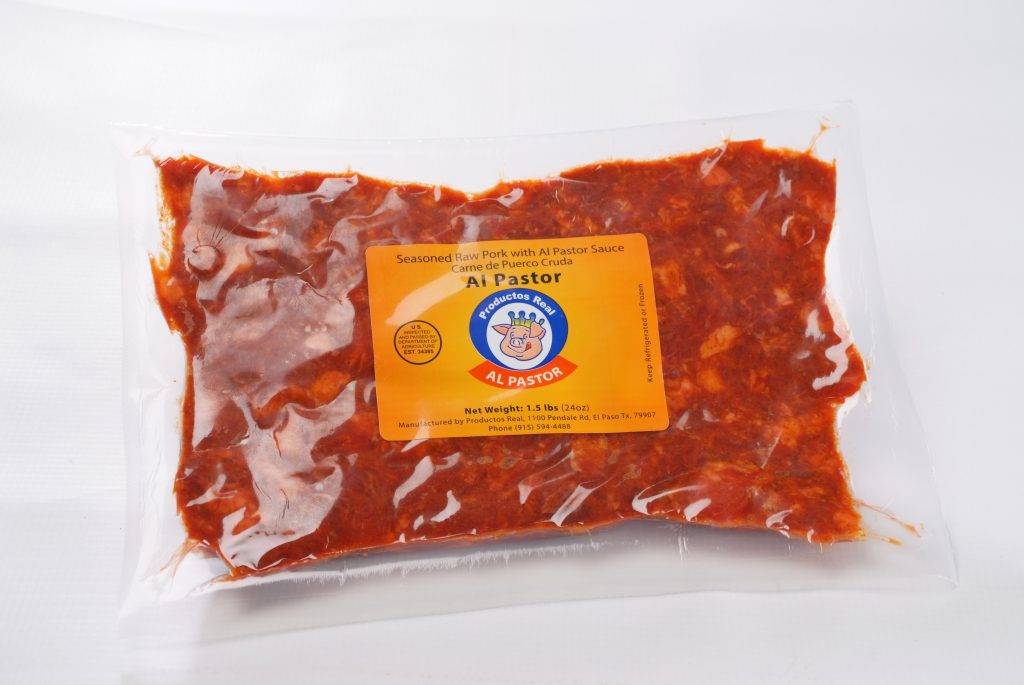 Al pastor is seasoned pork meat that can be enjoyed in tacos. It was inspired by the shawarma style of preparing Mexican meat, where a column of meat is cooked on a spit for up to a whole day. Al pastor tastes delicious with salsa, avocado, onion, and cilantro with your choice of corn or flour tortilla.
Patas de Res
Patas de res–cow feet–are often enjoyed in posole, but they can also be used to make tasty Dominican food. If you're in the market for trying something new, this is for you.
Patas de Puerco
Patas de puerco, or pork feet, are often added in menudo for extra flavor. Patas de puerco are actually quite good for you because they're filled with collagen. Either way, they make for a tasty treat.
---
If you distribute food to restaurants and stores and are looking to diversify your product line, call Productos Real to learn about our food manufacturing services in El Paso today!