Unforgettably Delicious and Traditional Mexican Dishes for the Holidays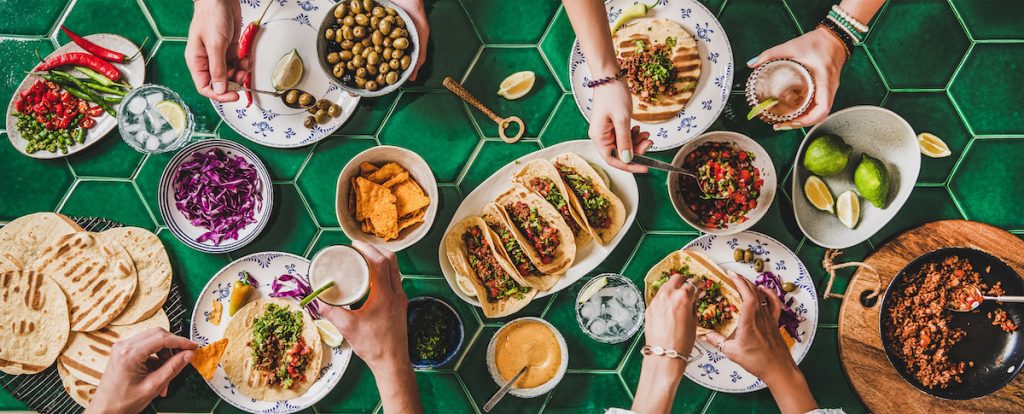 Every culture has its traditions. During the holidays, those traditions come out guns-a-blazing, as the families across the world come together to celebrate. In the U.S, where a melting pot of cultures exists, many of these traditions are often blended with others, creating a whole new tradition. Tex-Mex cuisine is a good example of a genre of cuisine spawned by two unique taste buds. So when Christmas time rolls around, hundreds of these diverse dishes start cooking in every household. 
Posole 
In the Southwestern United States, the Mexican influence is probably a lot more pronounced than in other areas of the country, although it is made across the land. This means different versions of the Christmas classic posole are boiling to comfort thousands of kids, hung-over adults, and families alike. Posole is a comforting Mexican stew with shredded pork and white hominy in a spicy red chili broth. Menudo is another well-known Mexican stew but differs in the kind of meat it uses. Posole tends to use pork or chicken, while menudo is made with tripe. There is no set recipe for posole; it is the universal child of stews that is welcomed with open arms in many homes but always altered just a little bit. A typical recipe might look a little like this:
As many will tell you, the posole served in one area of the country may very well be different from that served in another area of the country. Some prefer it extra spicy, some want more of a simple stew. Some use pork butt and some use pork shoulder. Some areas prefer menudo and others opt for the posole. It's an elemental stew, no doubt about it. It's usually eaten with a variety of garnishes as well, like lettuce, onion, green onion, cilantro, radish, and more. The preferred garnish also says a thing or two about the style of posole. 
Chilaquiles 
Chilaquiles is a traditional Mexican dish well-known and beloved across Mexico and the United States. It originated in the late 19th century and is a family staple across many Mexican and Hispanic households. The origin is often traced back to the Aztecs and the ancient peoples of Mexico, as the word itself (pronounced chee-lah-kee-lehs) derives from the Nahuatl language that means chilies and greens. How do we know this? Well, some native people in remote parts of Central Mexico still speak the language. They are made from fried tortilla strips submerged in delicious salsa or chile sauce that soak into the tortilla and soften it up. Just like posole and menudo recipes, chilaquiles are also very much apt for adaptation. It's up to the individual to decide just how soft they want their tortillas.In Mexico City, the recipe tends to call for green tomatillo sauce. In other parts of Mexico, crispier tortillas are preferred, so the tortillas are not soaked in the sauce. The sauce is poured immediately before serving. 
The central ingredients:
Crunch fried corn tortilla pieces

Red or green chili salsa 

Topped with a choice of cheese, chicken, beans, 

Garnished with onions, cheese, and more
Tamales
This one is a given! Tamales are staples of the holiday season. Like all Mexican dishes, the recipes vary wildly from family to family or region to region. Some like their tamales sweet, others like them fiery hot, some like them somewhere in the middle. Some people stuff their tamales with plenty of meat, others keep them pretty lean. One of the most popular types of tamales is made with tender pieces of pork simmered in a red delicious sauce. Many people are intimidated by making tamales, but the process is pretty straightforward, maybe just a little time-consuming. In the end, it's worth it! Your guests and families will love it. 
Main ingredients:
Pork filling or pork meat

Red chile sauce

Masa dough

Corn husks 

Spices and other filling options include cheese
In addition to the above meaty deliciousness, Mexican traditions also bring us several options for sweet desserts and drinks. 
Mexican Ponche 
If you're into hot and comforting things try some Mexican Ponche. This is a fruity punch made with apples, pears, oranges, and guavas and spiced cinnamon, cloves, tamarind, and hibiscus. It goes great by itself or after a meal and is a favorite of both kids and adults. The good news is the adults can quickly convert this into an even more comforting drink by adding some tequila! 
Bunuelos 
These crunchy treats are good for the whole family! Whether you are eating them with a glass of milk, coffee, or tequila (that's right) this sweet snack is made from fried dough covered in cinnamon and sugar.
Looking For Fine Ingredients for These Recipes? 
Mexican tradition has a lot to offer. Here at Productos Real, we are all about helping you with unforgettable Mexican dishes for your holiday get-together. You may have noticed that the red sauce was a key ingredient in several of the mentioned recipes! We got just what you need to make these traditional recipes your own. Check out all our products today! 
Like this content? Share it here!