Traditional Mexican Dishes and Drinks for the Holidays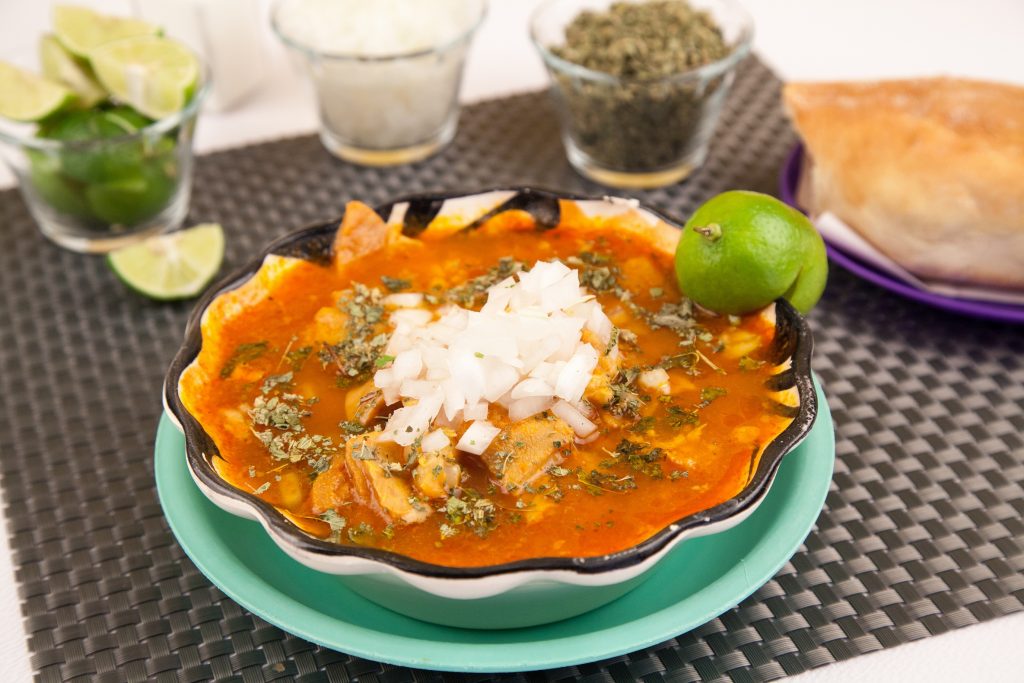 Every culture has something that they are known for cooking during the holidays. Mexican holiday cuisine offers lots of sweet and savory delights that bring feelings of comfort and warmth. These dishes are perfect for the cold weather and have a rich history behind them. Productos Real can help you in gaining the best ingredients to make these yummy dishes and drinks just in time for Christmas and the new year. We hope to give you the best quality foods for you and your family to enjoy this holiday season. 
Menudo
Menudo is a classic dish that is typically made and served for special occasions, especially Christmas. When preparing menudo, most people typically start on Christmas Eve and enjoy it for breakfast on Christmas morning. This dish requires a lot of patience. It is not something that can be made and ready in one night since the average cooking time for menudo is about five hours. It consists of tripe (beef stomach), hominy, and a red chili-based broth. Once it is fully cooked, it is often garnished with your choice of onions, lime, and oregano. Sometimes people like to add pigs' feet to menudo, but that is usually reserved for the extra special occasions. You can purchase quality ingredients for your next hearty batch of menudo from us here at Pruductos Real. Whether it be chile colorado, patas de puerco, or tripe, we've got you covered. 
Tamales
Pretty much everyone knows what tamales are, but we here to tell you again just in case there was any confusion. Tamales are made of masa, which is carn based dough, and a filling of either meat, cheese, vegetables, or chilis. Each individual tamale is then steamed inside their own corn husk until the masa is nice a firm. In total, the amount of preparation time and cook time amounts to about four and a half to six hours. 
Pozole
Pozole is very similar to menudo in a lot of ways, but it is also very different in a lot of ways. It is made out of broth, hominy and meat (typically pork) and sometimes garnished or seasoned with shredded lettuce or cabbage, chili peppers, onion, garlic, radishes, avocado, salsa, or limes. Pozole is generally served on New Year's Eve and on special occasions.
Ponche
Ponche is a lovely warm tropical fruit punch. It's cinnamony, fruity, and perfect for a nice cozy night in. The base of the drink is made up of piloncillo ( a dark brown unrefined cane sugar), water, and cinnamon sticks. A very important part of ponche is the fruit. You can include any kind of winter fruit that you would like such as, apples, oranges, guavas, and tejcotes. Tejcotes are small and speckled orange fruits with an apple and pear-like taste. You can then include your choice of prunes, walnuts, raisins, tamarind, and hibiscus flowers, which gives the ponche a nice rosy color. Everything then simmers together until the fruit is soft and plump. This drink is perfect for those cold winter nights with the family.
Buñuelos
After lunch or dinner, everyone needs a good dessert, especially during the holidays. Buñuelos are just the right amount of sweet and very simple to prepare and cook. These cinnamony treats are traditionally made all throughout the wintertime. A buñuelo is a flat, fried disc that is covered in cinnamon sugar and is crunchy in texture. The dough is only made of flour, baking powder, salt, and water. It is recommended that you put the cinnamon sugar on the buñuelo as soon as comes out of the frying oil so that it "sticks." This dessert is simple but delicious and a classic staple in Mexican households around the holidays. 
Atole
Atole is a thick and sweet drink that is sure to bring warmth to just about everyone. It is a hot corn-based drink that is very popular on dia de los muertos and around Christmas time. Atole is made by toasting masa and adding water that has been boiled with cinnamon sticks. It can then be tinned out with some milk as desired. Atole is very much seen as comfort food that is often had for breakfast and as an after-dinner snack on the cold days of winter. 
We here at Productos Real may be a little biased, but we think that some of these holiday traditional foods are some of the best out there. We highly encourage you to go and give these a shot if you haven't already. We promise you'll enjoy them as much as we do. While you're here, feel free to check out some of our products and maybe apply them to what you learned here today. 
Like this content? Share it here!